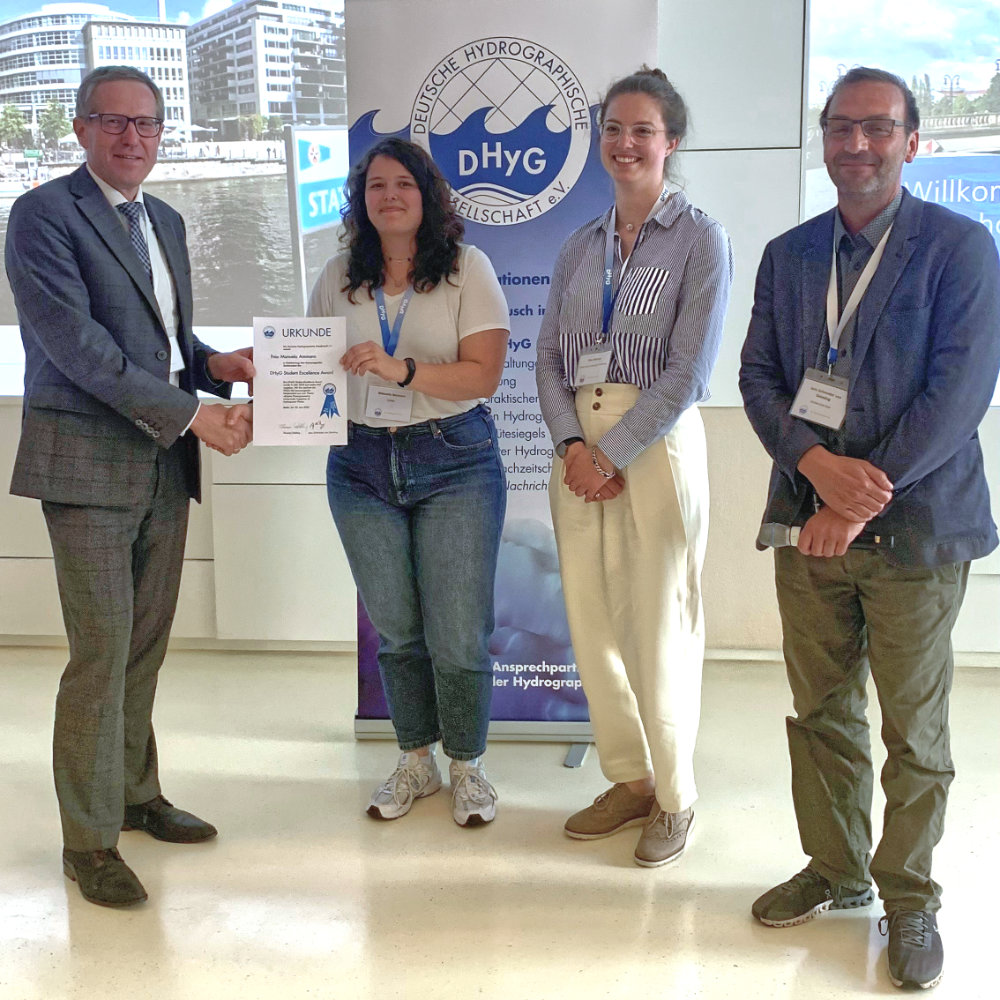 Während des Hydrographentages 2023 in Berlin wurde der diesjährige Preis an Manuela Ammann von der Fachhochschule der Nordwestschweiz aus Basel verliehen. Das Thema ihrer Bachelorarbeit lautet: "Robotic Photogrammetric Underwater Inspection of Hydropower Plants".
Das Foto zeigt die Verleihung der Urkunde. Von links nach rechts: Thomas Dehling, DHyG Vorsitzender, Manuela Ammann, Ellen Werner, Zweitplatzierte, Dr. Jens Schneider von Deimling, 2. Vorsitzender und Leiter der Jury.

Feasability of high frequency multibeam snippet backscatter ammunition detection and evaluation of their position accuracy
Tina Kunde wurde für ihre Masterarbeit, die sie an der HafenCity Universität Hamburg verfasst hat, mit dem DHyG Student Excellence Award 2017 ausgezeichnet. Die Arbeit zeigt auf, wie sich Munitionskörper am Meeresgrund mit Hilfe der Fächerecholot-Backscatter-Snippet-Technologie detektieren lassen. Wobei die Lage der Munitionskörper dank GNSS-Postprocessing und moderner Fächerecholottechnologie deutlich genauer als bisher angegeben werden kann.
Ausgabe:

DHyG-Sonderpublikation Nr. 004, 142 Seiten, Englisch

DOI:

10.23784/DHyG-SP_004

Autor/en:

Tina Kunde